BioKube systems are carachterized by No Smell, No Noise and Small Footprint. An exampel of this is the system installed at the Town Hall in Notambouri, a suberb of Bangkok Thailand.
The requirements were very demanding

The BioKube BioReactor was to be installed in the center of a large city with very little space.

I was a requirement that the area arround the BioKube BioReactor could be used for other purposes while the system was operating

The water was to be reused in a lake next to the Town Hall with public access so the treated water must be cleaned to the highest standards.
See here a short description of the system installed in Notambouri.
BioKube after installation. You see the wall of the Town hall.
The BioKube BioReactor system is installed under the slightly elevated area. The small house is for the technical installations.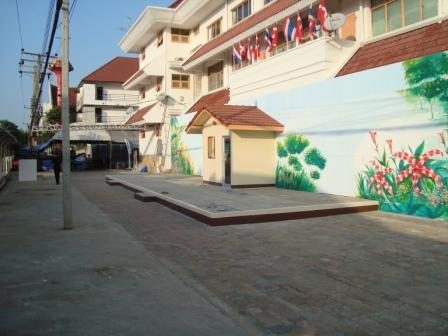 The area where the BioKube was to be installed. It is evident there is very little space.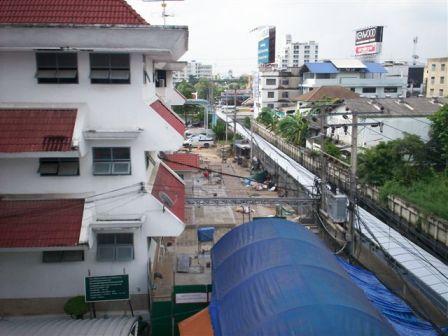 The area above the BioKube is used as the Town Halls open air restaurant for employees and guests. Can you have better profe og "NO Snell" and "No Noise".
The small house with the technical installations can be seen in the picture. The tabels of the restaurant are placed on the BioReactor next to the small building for the technical installations including the air blowers.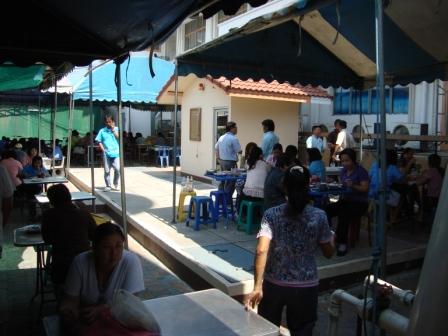 The cleaned water is outlet to a lake with public access in the town center. You see a childrens playground by the lake and the Town Hall of Notambouri in the rear.
The BioKube system in Notambouri under construction.